2015 College Football National Championships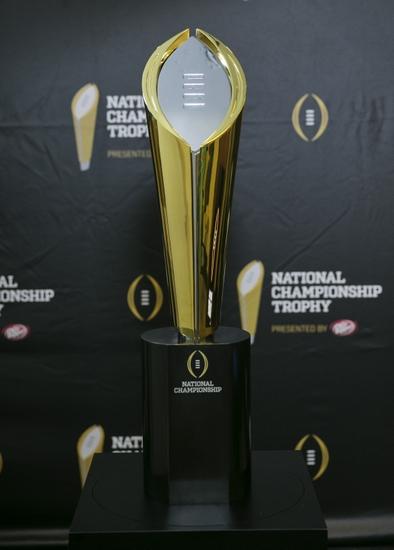 Hang on for a minute...we're trying to find some more stories you might like.
On January 12, 2015, two extraordinary college football teams met at the AT&T stadium in Texas. Both sides knew that one team would be leaving disappointed, and the other would be engulfed in glory. For this season's final game, the Ohio State Buckeyes were pinned against the Oregon Ducks.
The Ohio State Buckeyes were the lucky team that managed to make their way into the championships, even though most professional sports commentators anticipated that they would not have a successful season. Even though the team finished their season with a highly regarded 14-1 record, they were still expected to lose against Oregon. Urban Meyer, serving his third year as head coach, wanted the team to obtain an early lead in the first quarter to add a bit of confidence to the Buckeye's plays.
The Oregon Ducks were the favorite team, meaning that most professional commentators thought that they were bound to win. Oregon entered the playoffs with a 13-2 record, securing the number two seed for the elimination rounds.
The Ducks did not earn their spot in the championship without their own trials and tribulations. In 2013, Oregon's team won the Fiesta Bowl, prompting many people to believe that they would be a greater threat next season. Unfortunately, this hope was quickly erased when team's head coach, Chip Kelly, announced that he would be moving on to coach the NFL's Philadelphia Eagles.
The loss of Kelly left the Ducks dangerously weakened, as he had been the one leading them through such a magnificent season. Oregon quickly made Mark Helfrich, their team's offensive coordinator, their new head coach.
Both teams, upon entering the arena, knew that it would truly be a tossup. Oregon put points on the board at the twelve minute mark with a touchdown reception by Marcus Mariota, resulting in a massive spurt of confidence for the team. This confidence was quickly cut in half, with Ohio State's two touchdowns that tied the game, and then gave them the lead. By halftime, Ohio State was winning 21-10, after extinguishing Oregon's early lead.
Ohio proceeded to score another 21 points in the second half, with Oregon simply playing the catch-up game. In the end, Ohio State won 42-20, receiving the title of the 2015 College Football Champions.