Quads Go Big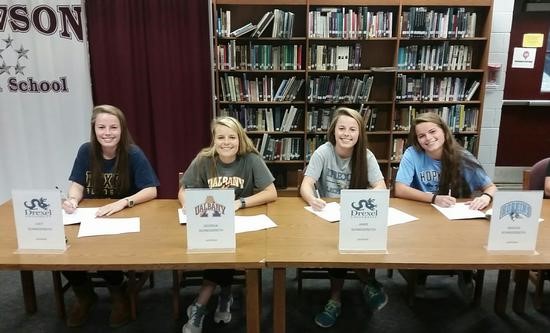 Hang on for a minute...we're trying to find some more stories you might like.
Although Towson High is known for our many talented athletes in each sport, this is something never before seen here at THS: Nine of our fellow class mates have been accepted into colleges around the country and have been offered a chance to play lacrosse.
Now, while all of our student-athletes are being honored here, four in particular have been catching the eye of our school and community. Why, you ask? Because they've literally been together since birth, and now they've all been accepted into some of the best colleges in the country, for the same sport, at the same time. Have any idea who it could be? They're our wonderful quadruplets! Not only did they start together from the very beginning in their freshman year at THS, but now Jamie and Lucy will be at Drexel together, Georgia will be at Albany, and Maggie will be at Johns Hopkins. That's not even the best part of it all! All four of them will be playing D-1 Lacrosse at each school.
I had a chance to speak with the quads about their signing, and more importantly, how it felt to be going through this with their sisters.
Maggie was the first of the four that I got a chance to speak with and she was so excited to share everything about the big day. "I've always had a passion for sports, and lacrosse just happened to be what I loved," said Maggie. "The day I found out about my acceptance I was lost for words, and of course the first people I wanted to tell were my sisters."
I asked Georgia how her parents would get to each of their games, seeing that they will be going to different schools. "My parents are our biggest supporters," she said. "But I wouldn't expect them to be at every single game. It sucks to think of them not being there all the time, but we're going to be on our own, and that's one of the perks and downsides of it."
The last two of the quads I spoke with were Lucy and Jamie, who will both be attending Drexel next school year.The question, which was the most heart breaking of them all: How do you feel about having to be away from your sisters? Jamie answered first, "It's very bitter-sweet to think about not being with my sisters all day, every day, but we all knew this day would soon come. It feels pretty good to know we're all doing what we love. I think we'll all get used to it eventually." Lucy interrupted and added her opinion about the whole situation. "Yeah, I mean it'll be weird at first, but now we get to actually find ourselves, and that's what excites me the most. Plus, I still have Jamie with me. So I guess we'll always be stuck together."
Well there you have it, Towson. Four beautifully talented girls, achieving their dreams, and doing it together. I'd say that's just quadtastic.