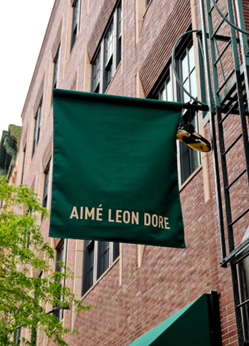 Aimé Leon Dore, a name synonymous with timeless elegance and modern sophistication, is a brand that has taken the fashion world by storm. Founded by Teddy Santis, this New York-based label has effortlessly blended heritage-inspired designs with a contemporary aesthetic, garnering a dedicated following and international acclaim.
Origins and Philosophy:
Established in 2014, Aimé Leon Dore draws upon founder Teddy Santis' Greek heritage and upbringing in Queens, New York. The brand takes its name from a combination of Santis' father's and grandfather's monikers – Aimé (love in French) and Leon (lion in Greek), respectively. This amalgamation symbolizes a family's enduring love and strength, reflecting the brand's core values.
The philosophy behind Aimé Leon Dore lies in the seamless fusion of traditional craftsmanship with a modern urban twist. Each collection is a manifestation of Santis' reverence for the past and his keen eye for contemporary trends, resulting in clothing that exudes sophistication while maintaining an air of effortless chic.
Distinctive Style:
Aimé Leon Dore is celebrated for its understated yet distinct style. The brand's designs often draw inspiration from Santis' childhood memories, vintage sportswear, and elements of Greek culture, resulting in a harmonious blend of influences.
From impeccably tailored suits to sportswear staples, Aimé Leon Dore prides itself on high-quality craftsmanship and attention to detail. Their color palette often includes earthy tones and muted hues, providing a sense of timeless elegance that effortlessly fits into a modern wardrobe.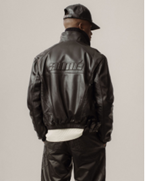 Collaborations and Partnerships:
Aimé Leon Dore has formed collaborations with esteemed brands like Woolrich, NB, Drake's, Drake's of London, Puma, Clarks, and Suicoke, showcasing their versatility and ability to merge various design aesthetics. These partnerships often yield limited-edition pieces, blending the unique style of each brand into a harmonious collection. I personally own a pair of NB x ALD 550's which are the most stylish yet comfortable shoes I've ever owned. The color palette and material means it can be worn in every setting.
Cultural Impact:
The brand's influence extends beyond the realm of fashion. Aimé Leon Dore frequently collaborates with artists and creatives from diverse backgrounds, further contributing to its cultural relevance. Their designs have been spotted on musicians, athletes, and influencers, solidifying their place in contemporary popular culture.
Sustainable Practices:
In an era where sustainability is paramount, Aimé Leon Dore is committed to ethical and sustainable practices. The brand emphasizes responsible sourcing of materials and production techniques that minimize their environmental footprint, showcasing their dedication to a more sustainable fashion industry.
Conclusion:
Aimé Leon Dore stands as a testament to the power of blending heritage with contemporary design. With its dedication to craftsmanship, unique collaborations, and a commitment to sustainable practices, the brand continues to captivate fashion enthusiasts worldwide. As Aimé Leon Dore evolves and expands, its impact on the fashion landscape will undoubtedly endure, leaving an indelible mark of timeless style and cultural significance.