Kevin Durant Traded to Phoenix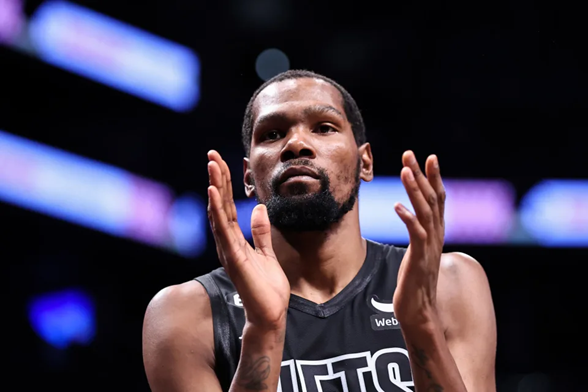 In the end of a historic collapse, Kevin Durant has been traded to the Phoenix Suns. Durant was traded to Phoenix for Mikal Bridges, Cam Johnson, Jae Crowder, and 4 unprotected 1st round picks. This trade has massive implications for the league. Phoenix goes from a team that looked done to one of the favorites in the Western Conference. And this Nets experiment is now the biggest failure in NBA history. They had Kyrie Irving, James Harden, and Kevin Durant and in a span of 3 years all of them are gone. The only silver lining for the Nets is that they did get a good return for all these trades. They got two great young talents in Mikal Bridges and Cam Johnson and got a ridiculous 4 first round picks.
Unfortunately, now the Nets are not a good team. They're currently the 4th seed in the East, and are now going to plummet to around the 9th seed. On the contrary, the Suns are probably the favorite of the Western Conference. A big three of Devin Booker, Chris Paul, and Kevin Durant have ridiculous firepower. There should not be a fit issue as Durant has played with ball dominant guards like Booker and Paul is probably the best playmaker Durant has ever played with. Losing out on Bridges and Johnson definitely hurts but it is worth it. They didn't have to give up Deandre Ayton so they kept an interior presence. Phoenix have been ravaged by injuries to Booker and Paul but as they get healthy they'll have one of the greatest scorers in NBA history to compliment them.
For Durant, this marks another chapter in an unusual career. He established himself as one of the best players in the NBA on the Thunder. Then he became the most hated player in the NBA by joining Steph Curry and the Warriors to form arguably the best team in NBA history. A few championships later he headed east to Brooklyn to join Kyrie Irving. 3 disastrous years later and he joins the Phoenix Suns for another chance for a championship. Phoenix is a franchise that has never won a championship. Charles Barkley and Steve Nash couldn't do it. But if anyone can bring a championship to Phoenix, it's Durant.