The Death of the Process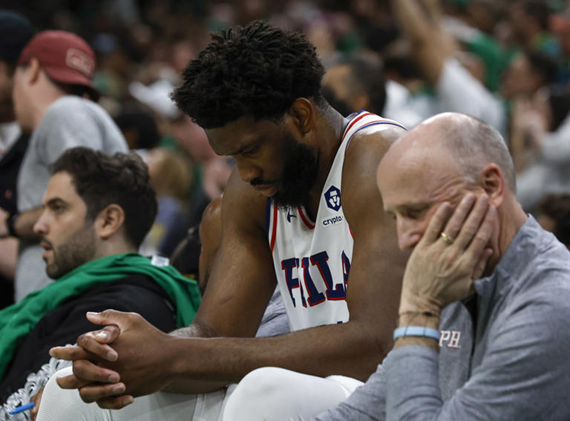 10 years ago, the 76ers lost a game 7 in Boston and were eliminated in the 2nd round. Ever since then, the Sixers have gone on the "Process," a series of seasons where management purposely made moves that completely ignored the present and only focused on the future. This led to some of the most miserable seasons in NBA history, highlighted by the 10-72 2016 season. Through this "Process," they were expected to acquire plenty of stars through the draft. But they actually only landed one, that is of course Joel Embiid. Other than Embiid there have been absolute disasters in the draft, most notably Ben Simmons and Markelle Fultz. Ben Simmons imploded harder than ever before seen in the league, and him never playing a NBA minute again seems like a possibility. Markelle Fultz was said to be the next great guard in the league and the guy that would complete the "Process," but he's become one of the strangest busts in NBA history. As soon as Fultz's rookie season started, he got an injury in his shoulder that caused his shooting form to disappear. A guard with amazing form and touch lost them in a few months. Because of this, the Sixers shipped Fultz to Orlando after a few years. With all the failure in the draft it might've seemed like the "Process" was a complete failure. But remember Joel Embiid. He's become the greatest Sixer since Iverson and won his first MVP this year.
During this time the Sixers have acquired some stars through trades. Those stars are Jimmy Butler and James Harden. Butler when he was on the Sixers fit in great, providing a consistent perimeter scoring presence alongside Embiid and at the time Simmons. After the devastating loss to the Raptors in 2019, Butler opted to go to the Miami Heat. We'll go back to that in a bit. James Harden is currently on the team and has been very up and down. After this rollercoaster of a journey, you'd expect the Sixers to have at least made a Conference Final. There's no way the Sixers suffered for nearly a decade just to go back where they started. Well in 2013, the Sixers' last Conference Finals appearance was in 2001. In 2023 the Sixers' last Conference Finals appearance was in 2001. And in a full circle moment, this year they lost a game 7 in Boston to be eliminated in the 2nd round. This season seemed like truly the best opportunity the Sixers had to get over the hump. The title favorites Bucks were eliminated in the 1st round, and the Sixers had a 3-2 lead heading back to Philly in this series. But they blew it. Jayson Tatum, after struggling all game, took over in the 4th for the Celtics forcing a game 7. In that game 7 Tatum would drop 51 points in a blowout win. The newly crowned MVP Joel Embiid had 15 points while the shining acquisition of James Harden had 9 points. There is not a way this season could've ended worse. While yes, Embiid was playing through a fairly significant knee injury, that's part of the issue. The only time Embiid was healthy in the playoffs was in 2020, and that year was a lost cause come playoff time.
Head Coach Doc Rivers has also blown another series lead, and his time in Philly looks to have come to an end. James Harden also imploded in the playoffs again. And what makes it so frustrating this time is we saw what he could be. In games 1 and 4, Harden dropped 40+ points leading the Sixers to wins. But in the rest of the games aside from game 5, he didn't even show up. He could not do anything in those games, even hesitating to shoot. Remember I said Jimmy Butler left Philly for Miami? Well in the 4 years he's been there he's made the Conference Finals 3 times. He's a player that plays on another level in the playoffs and that is something the Sixers desperately need. Add that to the list of Sixers' failures.
So what can they do now? Doc Rivers should most definitely be fired. He has failed to make adjustments in the playoffs every year he's been in Philly. And this year the coaching market is really good, highlighted by Nick Nurse and Monty Williams. But what about the roster? Embiid is staying no matter what. He's under contract for a few more years and he's still a MVP caliber player. The people that are saying trade him are grossly exaggerating. The biggest question is James Harden. He has a player option which he can opt in and play another year in Philly or he could opt out and become a free agent. If he opts out there's a big decision to be made. Do you run it back with an inconsistent aging Harden? If he opts in you kind of have to run it back. But if he doesn't you have options. I would go into the trade market, especially I'd call Portland about Damian Lillard. Lillard has said and proven multiple times that he doesn't want to leave Portland. But if I was Portland I would want to move from Lillard as they're not in contending form and the best move is to blow it up. A sign and trade with Harden, some young players, and multiple 1st round picks could work. I would approach this like the Rockets did when they traded for Russell Westbrook: an all-in trade for one more shot with their superstar. Because that's what the Sixers realistically have. One more shot. The "Process" as of now is dead. But it can certainly be revived. And as we all know, there's nothing Philadelphia likes more than an Underdog story.