The Amazing Advancement of The Taeguk Warriors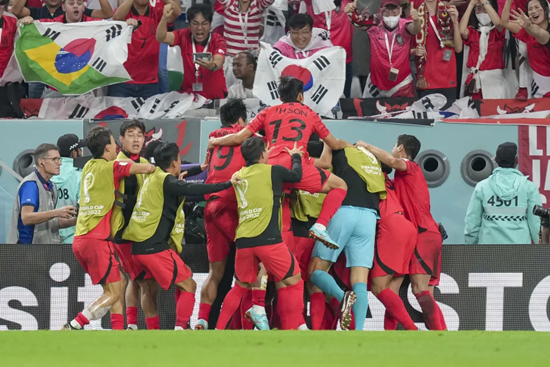 South Korea is always around when it comes to the World Cup. However, they've never been known to be a contender. Other than their amazing Semi-final run in 2002 and their Round of 16 run in 2010, they've been a group stage exit. They didn't win a game in 2014, losing to Belgium and Algeria and drawing with Russia. In 2018 they did have an absolutely incredible upset to knock out Germany in groups, but they still didn't make it out of groups. In 2022 this team had no expectations. The team had some decent players and superstar Son Heung-Min. While Son is a world class player, the team was just not considered enough to compete. And the fact that Son suffered multiple fractures in his eye and was forced to wear a mask did not inspire confidence.
The Taeguk Warriors were placed in Group H along with Ghana, Uruguay, and Portugal. They were not expected to advance in this group. But their first game gave people hope. A 0-0 draw with Uruguay is definitely respectable. Uruguay was a team that some people thought could advance. But Korea had multiple missed chances this game so the team had to improve in order to have a shot at making it out of groups. In their second game, they lost to Ghana in a 3-2 thriller. Ghana went up 2-0 early, but Cho Gue-Sung scored two goals in 3 minutes to tie the game. But a Mohammed Kudus goal gave Ghana the lead and they would keep the lead. Their 0-1-1 record so far put their advancement chances in major jeopardy. They needed to beat contenders Portugal and they needed Uruguay to beat Ghana while still having a higher goal differential than Uruguay.
Things looked really bad for Korea immediately. Ricardo Horta scored for Portugal in just the 5th minute. Things started to look better when Kim Young-Gwon scored the equalizer in the 27th minute off a corner kick. Meanwhile in the Uruguay vs Ghana game, Uruguay was dominating with an early 2-0 lead. This was a good and bad thing; Uruguay winning is good but them scoring a lot is bad as Korea still needed a goal differential. Korea needed to score a goal while with Uruguay not scoring or Ghana scoring. Korea got really lucky in this game as Cristiano Ronaldo missed multiple chances to score for Portugal. Korea also missed some chances as two Son Heung-Min shots were saved.
As the game went on, it seemed like Korea would head home early again. It was 1-1 and a draw meant elimination for Korea. As the game went to stoppage time, the miracle that Korea needed happened. In the 91st minute, Hwang Hee-Chan scored the go-ahead goal that put Korea in position to advance. Son Heung-Min sprinted down the pitch with the ball surrounded by Portuguese defenders. Son managed to get to the Portuguese box and kicked an absolutely beautiful pass through 3 defenders to Hwang who scored the goal of the decade for Korea. The timing of this pass to prevent an offsides call was amazing. Remember Son Heung-Min is probably under immense pain with multiple fractures in his eye and a mask that prevents some vision. And he still remained calm and sent an absurd pass through 3 defenders.
Korea held on and beat Portugal. Uruguay could not score any more goals, so Korea advanced through goal differential. Of course, Korea got destroyed by Brazil in the Round of 16 (Paik Seung-Ho did score an amazing goal though) but that doesn't matter. Korea was supposed to be last in the group but managed to qualify. And who knows, maybe sooner rather than later will be the time that Korea replicates their magical 2002 run.