The Twitter Blue Fiasco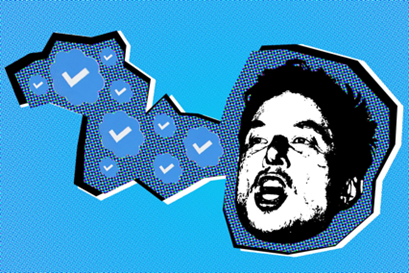 On October 28th, Elon Musk, billionaire and SpaceX owner officially announced his ownership of the major social media platform Twitter after months of conflict and speculation. Musk, who has a considerable presence on the platform, first proposed his motion to buy Twitter around March 2022, after questioning the website's rules on free speech. Musk would then offer a $44 billion deal to Twitter's CEO, which he would later try to pull out of. This would lead to a back-and-forth court ordeal between Twitter owners and Musk on the future ownership of the platform.
Musk officially bought Twitter on October 27th. He began his time as CEO by planning to cut Twitter staff by a third, laying off many long-term employees. For the remaining employees, he pressured them to quickly build new launches. Musk first premiered a revamped version of Twitter Blue, a monthly subscription service that lets you edit tweets, and block ads, but most popularly allowed creators to have a verified blue check mark for $8 a month.
Many users began to use their new checkmarks to pose as other prominent figures. Eli Lilly, a major pharmaceutical company, was one of the first victims of the new and unrestricted blue checkmark. A tweet posing as "@EliLillyandCo" tweeted "We are excited to announce insulin as free now." The tweet began to gain attention to the point where the real Eli Lilly company, "@LillyPad," had to come out with a statement saying, "We apologize to those who have been served a misleading message from a fake Lilly account. Our official account is @LillyPad." but the damage had already been done. The company's stocks drastically dropped, causing major losses for the company. More and more of these accounts posing as major figures, politicians, or companies began popping up. Another account posing as Nintendo, with the user "@Nintendoofus" tweeted an image of Mario flipping the camera off. Though not as serious as some of the other impersonation accounts, this photo began to circulate on Twitter, representing the impacts of Twitter Blue.
Elon Musk quickly began to backtrack on his promises of "free speech" after these incidents. Companies and figures began complaining that they would become the next victim of impersonation. These accounts started to become disabled, and an "official" badge was added to accounts that did not pay for their verification. Users then started to feel as though Musk's response to the incidents were hypocritical against his new promises on the platform, especially after an incident where an account began posting profane tweets under his name. Others felt he was protecting accounts that he agreed with politically but disabled those who he disagreed with.
This incident put Musk's intentions into perspective. Did he want to create a platform for "free speech" or use this as another way to make money and gain power as the wealthiest man in the world?