The New Instagram Update
This year, Instagram has rolled out some new features for its users. Recently many apps have been updating their design and incorporating aspects from other apps as well. One example of this is Instagram taking the idea behind TikTok and making their new "Reels." Some of Instagram's newest features include music on posts, scheduled content, and profile songs.
Muting Posts and Stories
This feature is not the newest, but is definitely an intriguing addition to the app. With this feature, you can mute someone's stories or posts without unfollowing them, and they don't get a notification. You will still be able to go to their profile and view their posts; they just won't show up in your feed. In order to do this for a story, you click the 3 dots in the top right of the story and hit mute. After you click mute, you will be able to choose to mute just the story or the story and posts. You can also do it by going through their profile and clicking the following button, then Mute.
Music in Feed
With this new feature, you can now add up to 90 seconds of music to any photo post. With this new feature, you can add some more expression to your posts by bringing music into the background of any post. You can do this by opening the app and when you are done making your post, select the Add Music option at the bottom of the page and choose any song in Instagram's database. You can either find a new song in the For You option, search, or browse.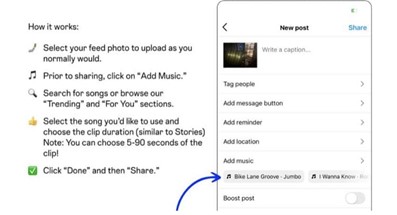 Map Feature
With this new feature, users can now check the 'map' to view local things around them. By opening the map, you can search local businesses and learn more about them, find popular tagged locations near you, and even filter locations by categories like cafe or restaurant. The map is an updated version of the previous map, which you used to only be able to view through direct posts, but now you can view any time and view anywhere. You can view the map by clicking a tagged location in a post, searching a location, or exploring the map by viewing it in the search bar. You can also save locations that you are interested in.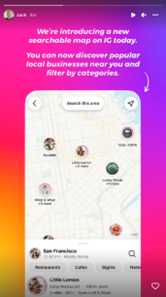 Candid Feature
Similarly to the way that other apps like TikTok have adapted key features from the app BeReal, Instagram is doing it as well. The concept behind the 'candid' feature is encouraging users to post on their story a candid photo of themselves and others can't view it until they post their own. This feature also is similar to BeReal in the way it has a dual camera so that you show yourself and where you are.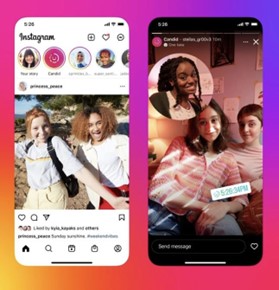 Notes Feature
With this feature, you can share your thoughts by making a short post using text and emojis. This is an easy way to share an idea and start a conversation by using up to 60 characters. These notes will arrive in the top of someone's inbox for 24 hours and a reply to a note will show up as a DM (Direct Message) in the inbox as well. Notes can give an opportunity to share your opinion as well as reach out and connect with someone. To do this, you go to the top of your inbox, select either Close Friends or Followers you follow back (mutuals). You type out your message in the box and when you're done you share it and only the selected people can view it.