Can Trees Now Call The Police?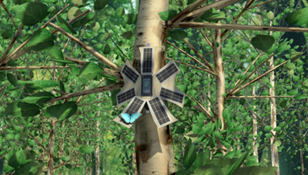 For many years, deforestation has been an issue, from illegal logging to forest fires. Deforestation is extremely harmful to very important ecosystems and is the cause of around 10% of global warming. There are currently strategies in place to help combat deforestation such as sustainable forestry, economic incentives, and some technologies like satellite imagery. While each of these methods are helpful and important, there have not been many fast-acting preventative measures, but now there are.
The organization Rainforest Connection has made devices called Guardians using old smartphones to hear the sound of chainsaws from illegal logging and also the sound of illegal poaching. These solar-powered devices are placed in tree canopies and can immediately send an SMS message to the authorities after transmitting a signal to the cloud server. These Guardian devices can hear sounds of the rainforest from up to one kilometer in the distance, depending on the source of the sound.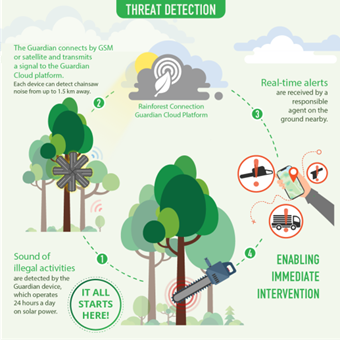 Other preventative measures rely on satellite imagery, but take up to two days or weeks to detect, which is sadly too late. RFCx`s Guardian devices are the world's first illegal logging detection devices that can detect, act, and stop in real time. These devices are not only helping to prevent carbon emissions and save trees, but also saving the millions of wildlife living in the rainforest.
RFCx also has an app that can allow users to listen in on the sounds of all the creatures in the rainforest! When users subscribe to the Rainforest Connection App, aside from hearing live streams of noises of the forest, they are also supporting to incentivize and fund rainforest protection projects. So far, 82 million minutes of data have been collected, over 2,500 species have been classified for automatic detection, 559 Guardians have been deployed, and 151 endangered species acoustic signatures have been identified. Learn more on their website https://rfcx.org/!