Underwater Volcano Sends Massive Tsunamis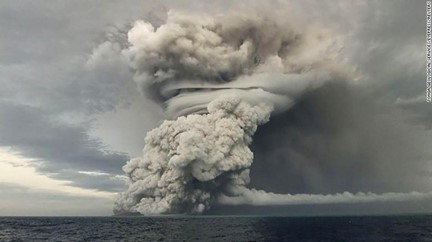 On January 15th, an underwater volcano erupted in Tonga, a country in Oceania. Waves several feet high crashed onto the shores of Tonga, Australia, Canada, and the West Coast. After the eruption, large ash clouds were sent into the air. This caused devastating damage to the capital of Tonga, Nuku'alofa, as waves crashed into the shore destroying boats, shops, and residential housing, leaving homes damaged and streets flooded. As of right now the damage is manageable, though further eruptions have not been ruled out.
In Japan, a tsunami Advisory was issued Sunday morning after seeing waves around 9 feet high and smaller tsunamis in other locations. By Sunday afternoon, the Advisory was lifted with the possibility of further tsunamis ruled out aside from some tidal fluctuations.
In the U.S. waves were seen around 3-4 feet, reported mainly in California and Alaska. The first tsunami Advisory was issued to the states of California, Oregon, Alaska, and Washington, which were all lifted the next day. The impacts were similar to a "High King Tide" with effects similar to a nuisance flood, and damage to harbors, docks, and some buildings on the shore.
Professor Shane Cronin told the New Zealand Science Media Centre that research suggested current eruption episodes could last up to months or weeks, and more similar sized tsunamis are possible. The eruption will lead to an ash accumulation of 10 cm and help will be needed to restore drinking water to Tonga; the people of Tonga must "remain vigilant" for further eruptions and tsunamis.