Why No One Wants Lamar Jackson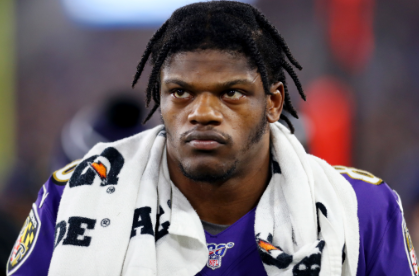 Right now the situation in Baltimore with Lamar Jackson is an absolute mess. The Ravens and Jackson couldn't come up with a contract agreement and the Ravens have put the non-exclusive franchise tag on Lamar. When Deshaun Watson signed his massive deal with Cleveland it put the whole market in a frenzy. Jackson wants more than what Watson got, and Baltimore is not willing to pay it.
Recently Daniel Jones signed a massive contract with the Giants which he really doesn't deserve. That contract makes any future contract negotiations between Baltimore and Lamar very difficult too. So logically Baltimore is looking for a trade for Jackson. But surprisingly no one wants him. Which is very odd as Jackson is one of the most electric players in the game and there are many teams that are just a QB away. But many of those teams opted for a cheaper QB. The Saints got Derek Carr, the Raiders got Jimmy Garoppolo, and the Falcons got Taylor Heinicke. That leaves the Jets and Panthers as the teams that most need a QB. The Jets are pursuing Aaron Rodgers and the Panthers traded for the 1st pick in the draft and will most likely draft Alabama QB Bryce Young. But with Lamar on the market these teams would logically want to go for him. But for whatever reason they weren't interested. But there are actually many reasons why teams are just not interested.
To me, Lamar has always been a bit overrated. The most obvious reason is his injury history. Ever since his MVP season, he's been out due to injuries. He missed the Ravens' Wildcard game against the Bengals this year, a game in which most say if Jackson played the Ravens would've won. But another issue is his performance. Lamar's play has been a sort of controversial topic. Some people believe he's not good enough of a passer and others believe he's an elite QB who's never had weapons around him. I'm in the middle of those stances. It is true that Lamar's weapons were never that good. Mark Andrews was always a reliable target but other than that he's only had a streaky Hollywood Brown as his best weapon. But it's also true that Lamar has often been an underwhelming passer. Especially in the playoffs. Lamar in 4 playoff games has 900 yards, 3 TD passes, 5 INTS, on 55% completion. So it makes sense that he's only managed 1 playoff win in his career. His rookie year he lost to the Chargers but that loss is more excusable as he was a rookie. In his MVP year the Ravens' embarrassingly lost to the Titans in the divisional. That Ravens team looked unstoppable but they got run over. The next year he got an impressive revenge win against the Titans but then got embarrassed by the Bills. The next two years he got injured. That is really not a good track record for a player of Lamar's caliber. Teams don't want to pay a lot of money for someone with that track record and injury history.
So what's in the future of Lamar Jackson? It's hard to say, currently it looks like he's going to do the Le'veon Bell route and hold out until a contract is agreed upon. But Bell did fall off after he got a new contract, so Lamar might see that as a cautionary tale. He might just play and use the contract issues as motivation. But he is not happy with Baltimore at all currently so I believe he'll hold out. But then who would want him? If Trey Lance doesn't work out in San Francisco the Niners could consider going for Jackson. The Falcons might give in and go for him. If the Jets can't get Aaron Rodgers they'll definitely talk to the Ravens about Lamar. And in something that would look really ugly Lamar could end up in a Patriots uniform if Mac Jones and Bailey Zappe don't pan out. But all these scenarios to me are unlikely to happen anytime soon. So for Ravens fans I say brace for impact, because this next season and the seasons after will probably be really ugly.