The Stress of College Apps… And How to Handle It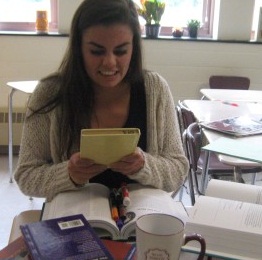 Giuliana Gettier
October 11, 2013
Fall brings many things to the mind of a teenager – school, sports, bonfires, and comfy sweaters.  For a high school senior, only one thing comes to mind:  college applications.  As deadlines approach faster than the leaves change from green to brown, seniors are more stressed than ever. The deepening pressure for students to send in applications while maintaining their GPAs is a recipe for insanity.
Everyday brings a new challenge, and consequently, a new work load. "For homework tonight…" are the dreaded words that create an obvious shift in every student's demeanor, and the occasional, but expected, sigh of anxiety.  As a senior this year, I experience this extra weight upon my shoulders almost every night, and I am surely not alone. Fellow seniors share their frustration with me as we all discuss what our agendas are for the long nights ahead of us. "I have about two hours of homework every night," sighs senior Danny Walsh as he flips through his assignments. "I try my best to get all of it done, but sometimes I need to put it aside for SAT studying and applications."
Seniors have a lot of work to do, and not much time to do it. Although there is a large range of deadlines for different colleges across the nation, most of us want to get everything done ASAP. "My first deadline is November 1st for UNC Chapel Hill," explains senior Clair Devaney.  UNC is Clair's number one choice, so the pressure is on. College applications require quality and care, which can be a challenge when time is scarce.
The majority of the Towson student body also participates in several extracurricular activities and clubs, which are for a great cause and are also tons of fun, but let's be honest – sometimes taking time out of our seemingly never-ending days to participate in these clubs is the last thing we want to do. Some students are in more than one club or sport, making it often impossible to participate in each club, attend every practice, finish homework, and complete other assignments and projects.
Senior Madi Gischel shares her frustration with trying to cram it all in at once: "I really love soccer, but on certain nights I just want to go home and finish my work for school." The time students spend at practices, clubs, and games goes by fast, but it would be nice to catch a break and gain some extra time every once in a while.
Even though there are many factors that play into a stressful senior year, there are also many solutions that can help keep you calm and reduce your stress.   Fellow seniors (and all underclassmen who will eventually endure this), listen up for some useful tips to melt away the college application stress:
Practicing yoga has always been a staple for relaxation and clearing your mind.  "I try to go to yoga classes at least twice a week. After each class I feel so much more relaxed and ready to take on the rest of my day," says Laura Kanwisher.
Physical activity is an awesome and healthy way to relieve built-up stress. Whenever that weight on your shoulders gets to heavy, turn on your headphones and go for a run!
Netflix can be reliable when you need to get your mind off some of your troubles. One word of caution –  don't get sucked into nights of  never-ending movie and TV series watching.
Not the schoolwork kind, the poetry kind.  Express yourself and write your worries away!
No matter what you do, the clock will always be ticking. Be sure to use your time wisely and efficiently!
A mountain-high pile of jumbled papers will never be your friend. Keep your assignments dated and neatly organized so you don't have to play the "I think I left it at home" card when you're your teacher collects them.
Your peers are students just like you, and are going through the same deal. Start a "group chat" with a couple of friends to keep each other updated and to give some helpful reminders!
Believe it or not, our teachers were once our age and went through the same college admission  process. With years of experience under their belts, teachers will give some awesome and useful tips.
Who doesn't love food?! Take your mind off of school and turn on the oven to make yourself a delicious treat.