Ben Simmons: The Definition of Disappointment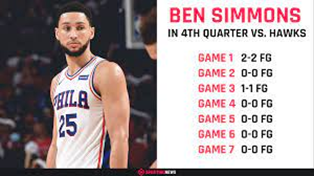 Ben Simmons is an NBA player who is on the Brooklyn Nets; 6 games into this season and he's yet to score 10 points and is shooting 44% right now. After having a year off, this is absolutely disappointing. But to really get a good idea on how disappointing he is, we need to take a look back on his whole career.
When he was a college player in LSU, he was an undisputed 1st pick type player. In the 2016 draft, he was drafted the 1st overall player by the Philadelphia 76ers. He missed his rookie season with a broken foot. But in his actual rookie season he looked phenomenal. He averaged 15 ppg, 8 apg, and 8 rpg which won him Rookie of the Year. He looked like the next coming of Lebron James, but there was one huge problem. He could not shoot for his life. And that was glaring in the playoffs. The Celtics exposed him in the 2nd round which cost the Sixers the series. But people had hope in him. People expected him to take a sophomore leap. He averaged 17 ppg, 8 apg, and 8 rpg. But he still couldn't shoot. And the Sixers lost in the 2nd round in a heartbreaking series against the Raptors. People were disappointed but still had high hopes. His third year he averaged 16 ppg, 8 apg, and 8 rpg. Still. No. Change. He got injured before the playoffs and the Sixers got swept in the 1st round. And the 4th year he was also exactly the same.
At this point he was on the trading block. When superstar James Harden was up for trade, the Sixers tried to trade Simmons for Harden. That trade never happened as Harden went to Brooklyn instead, but Simmons made his name as one of best defenders in the league. But then the playoffs hit. The 2nd round series against the Atlanta Hawks was one of the biggest meltdowns in NBA history. He did not take a shot in the 4th quarter after game 3. He was an absolute liability on offense and people were even calling for him to get benched. He also had the worst free throw % in playoffs history. In game 7 he passed up a wide-open dunk that would've tied the game late in the 4th quarter. This series made him the laughingstock of the NBA and the city of Philadelphia wanted him dead.
Immediately trade rumors started swirling around. Things got even crazier when Simmons demanded a trade and refused to play due to "mental health" reasons. No one thought this was true; he refused to see team doctors about this and did not play for the Sixers ever again. Things looked bleak for a Simmons trade but all of a sudden James Harden became available again and this time the Sixers did not miss out. Harden headed to Philly and Simmons went to Brooklyn. And he didn't play at all in his first season in Brooklyn due to a back injury, which also doesn't make sense as he didn't play at all that season and somehow got a back injury.
And that brings us to the present day, where Simmons barely has more points than fouls. The Nets need him to be that complementary star beside Kevin Durant and Kyrie Irving (who is in some fire himself). And that's not happening. Simmons has done nothing but disappoint since his rookie year. His confidence has looked broken ever since that Atlanta series.
However, all hope is not lost. Simmons still has potential to be a great NBA player. He needs to be more aggressive and that will open up opportunities for himself and his team.