Met Gala Review
The Met Gala is an annual fundraising gala held for the benefit of the Metropolitan Museum of Art's Costume Institute in New York City. Many celebrities, actors, and musicians are invited to attend the Gala and each year there is a theme. This year's theme was "Gilded Glamor," which is taking inspiration from New York's Gilded age with "gilded" meaning to show the wealth and glamour that hid social turmoil during that era. This year and with any year there are lots of hits and misses when it comes to the outfits. It is important to note that celebrities are selected by individual designers who design what celebrities wear and those designs promote the designer. That is how most of the celebrities who walk the carpet get their free ticket in, so keep in mind the celebrities usually don't have much say in what they wear.
My favorite by far is Blake Lively's dress. When she first appeared on the runway, she was wearing a beautiful bronze colored dress which was outstanding on its own. As she got to the middle, she stopped to unveil the sparkling baby blue train by the tug of a bow. The dress was inspired by the Statue of Liberty, Empire State Building, Grand Central Station, and other landmarks of New York City's architecture. So not only was this dress absolutely gorgeous, but it also fit the theme of the night amazingly. This dress, designed by Atelier Versace, is beautifully executed and left many jaws dropped.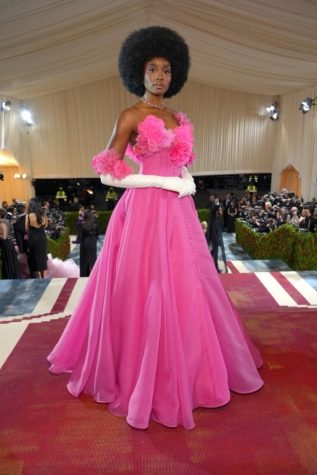 Eve's Favorite:
My favorite outfit was from Kiki Layne. She is wearing a dress by Atelier Prabal Curung, and her heels are from Stuart Weitzman. I think the designers did a great job with making the look on theme, but with a modern twist. The gloves are like those that were worn in the gilded time, and the dress is gorgeous and bright. It holds the traditional shape of a ball gown but still looks sleek and classic. She also used her look to share a message. In her look, she wears her natural hair in the afro, which as her stylist explains, "would not have been celebrated" in the Gilded Age. Her stylist also said these choices portray the balance of elite African Americans and the enslaved.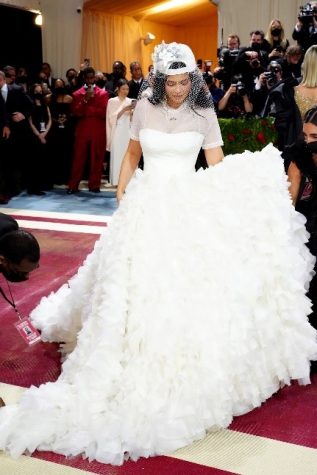 Sara's Least Favorite:
I think everyone at the Met Gala looked great, but in terms of fitting the theme, my least favorite was Kylie Jenner's outfit. She debuted a large, ruffled skirt with a mesh T-shirt and an Off-White logo. She also had a veil attached to a backwards baseball hat. This look was designed by Virgil Abloh. I think the outfit itself wasn't horrible, but it just wasn't meant for the Met Gala theme of Gilded Glamor. The dress was meant to be a tribute to Abloh who passed away in November 2021 and in her caption, she said "To celebrate V tonight and his incredible legacy truly means the world to me. i'm humbled to wear this dress and honor my talented beautiful friend. we felt you tonight Virgil and love you forever. & Thank u to the entire @off____white team !!". I think that the message and tribute behind this look is meaningful and very sweet, but the dress alone just does not meet the theme of the night.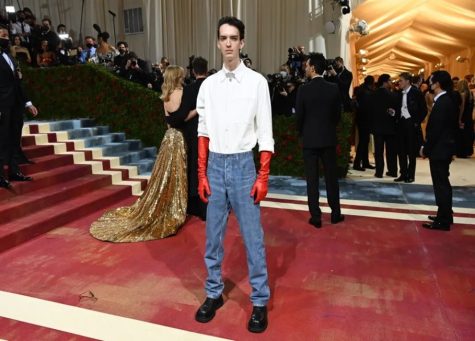 Eve's Least Favorite:
While I did not like many of the outfits, Kodi-Smit McPhee's was my least favorite. Apparently, this look was supposed to be a celebration of 'casual Fridays'. I have no idea how this is connected to Gilded Glamour, and it looks very underwhelming. The red gloves do not go with the look at all, and the jeans are supposed to look like jeans but are leather. I do not see the point in this, and it looks cheap and uncomfortable. Also, he didn't really look happy to be there.