Who was Bessie Coleman?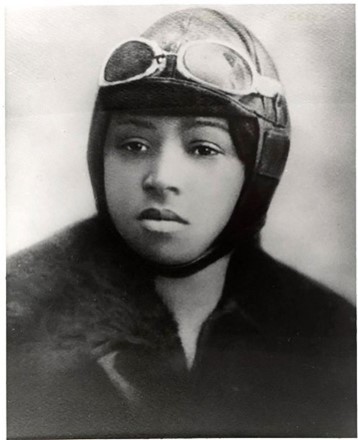 Bessie Coleman was the first African American and Native American woman pilot. She was born on January 26th, 1892, in Atlanta, Texas. She was an inspiration to many other African Americans and women encouraging them to follow their dreams and try their hardest. She had acquired the nicknames "Brave Bessie" and "Queen Bess." She gained her dream of flying after one of her 12 siblings, John, teased her about how French women could learn to fly airplanes and Bessie was not allowed to, after coming home from fighting in WWI.  She began taking French classes and was accepted into Caudron Brothers' School of Aviation in Le Crotoy, France, because no American schools would take her. She finally received her international Pilot's License in 1921.
Bessie's dream became to open her own flight school and own her own plane. She purchased a "Jenny" in 1923 for $500, which would be approximately $8,200 today. In order to achieve this, she gave speeches and showed films of her performing tricks in the air at churches and theatres to earn money. She refused to give a speech anywhere segregated or discriminatory. She became famous after performing a "loop-the-loop" at a public flight, the first one performed by an African American woman. She began to tour the country giving flight lessons, performing in shows, and encouraging African Americans and women to learn how to fly.
2 years later she survived a major airplane accident. Her airplane engine stopped working causing her to crash; she was badly hurt and suffered a broken leg, cracked ribs, and cuts. After healing, she continued to perform her air tricks. After gaining popularity and money, Bessie purchased her own plane. She went back to Texas to perform and since Texas was segregated, the managers planned on creating separate entrances for African Americans. Bessie refused to perform unless there was one gate for everyone and the managers agreed, although they still had segregated seating sections. She became a hero for many from standing up for her beliefs.
On April 30, 1926, Bessie was in the passenger seat of a plane for a test flight with William Wills. When the plane was nearly 3,000 feet in the air, a wrench in the engine got stuck. Wills, unable to steer the plane, caused it to flip upside down and Bessie was not wearing a seatbelt. Since planes at the time did not have roofs, she fell out and died. Wills crashed the airplane and also died. In 1931, the Challenger Pilots' Association made a tradition of flying over Coleman's grave each year. Then in 1995 the "Bessie Coleman Stamp" was made in remembrance of her. Bessie Coleman was an inspiration and hero to many African Americans and women; she fought against and challenged gender and racial prejudices. She was a hero to millions who were battling segregation and fighting for equal rights. Bessie Coleman was an inspiration and should never be forgotten.