County's Best Birdie Bashers Duke it out at the County Badminton Tournament
Shwing! Kablooe! Ding! Dang! Baow! It's the most poppinist birdie-basher tournament around. That's right, I'm talking about the 2k15 BCPS badminton tourney at our very own Towson High School.
The excitement of the high-octane, whiplash-speed sport was not only seen, but it could be felt as the badminton maestros from all over the county performed at top level on Saturday, October 31st, 2015.
It was the big-time. The fiercest contenders waited the whole season for their chance to really shine at the big kahuna of badminton competitions.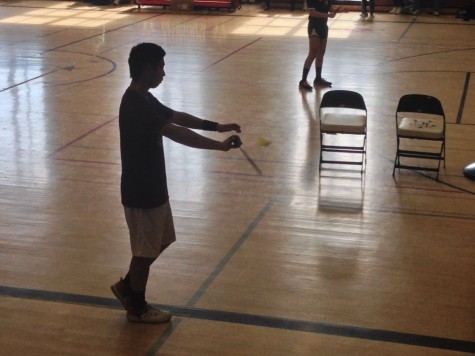 Seniors Leo Lei (shown above) and Rui Fu dominated throughout the tournament, playing doubles together and knocking out tough opponents from Patapsco, Parkville, and Pikesville. The duo ultimately found themselves in the gold medal match, playing for all the marbles against their biggest rivals, the Dulaney High School Lions.
The match was hard-fought with maximum effort exerted from both sides of the net, but in the end, the Dulaney boys came out with the crown. The Towson buds had to settle for the silver medal, but no gold medal can do justice for the hearts of gold the Towson boys showed.
Congratulations to all of the decorated birdie-bashers that rocked the competition during the tournament. Enjoy the medals, competitors – you earned them.