Players Reflect on Past Season: Boys' JV Basketball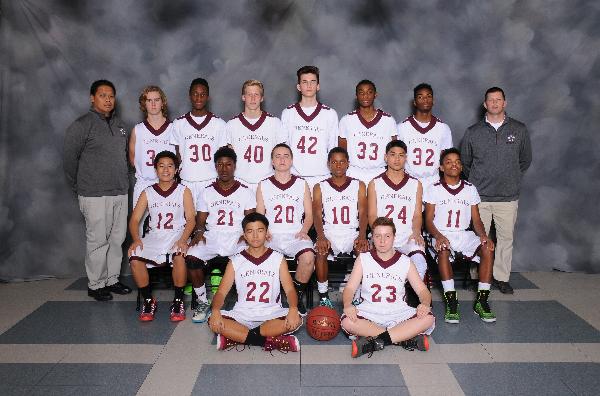 The 2014-2015 JV boys' basketball team had an amazing season. Finishing his last year with the team, Coach Eastham says that "this has been the most successful year in seven years." The team's record was 9-5, and they did an outstanding job of defying the odds. They never gave up and remained focused throughout the entire season. Known as the underdogs in most of the games, they proved many people wrong by beating some of the top teams in the county, like Kenwood, Hereford, and Eastern Tech.
When asked about the most memorable game, sophomore Kyle Gaspay claimed that it was the Dulaney game, while sophomore Joe Weir said the Loch Raven game – he scored 25 points and ten rebounds. Sophomore Tanner Meeks claimed that the Eastern Tech game was the most memorable because he made two clutch three-point shots. Looks like they all had some good games to talk about.
Both Kyle and Tanner said that the funniest moment of the season was "when Coach Eastham played Coach Jimmy one-on-one." Looks like the coaches still have it in them, proving they are just as good as any of the kids on the court.
Kyle and Tanner agreed that the Kenwood game was their most challenging game. They said the team was a bigger and more athletic team, plus it was early in the season and they didn't know how to play as a team yet. Joe said that the Perry Hall game was their most challenging game because they looked confused on the court. Despite these frustrating games, everyone on the team stood together.
Kyle and Tanner said that the team has really great chemistry; they understood each other's game and trusted each other. Kyle said that on a personal level, his teammates look to him as a leader, which builds his confidence on the court.
This year's JV boys' basketball program was very successful and just what the coaches wanted to see. All of the players worked hard and everybody contributed to the team in their own way.