Preparations Begin for Towson's Fall Production of You Can't Take It With You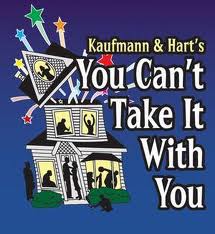 Heather Seyler
September 23, 2014
Attention all thespians! Towson's drama team has announced their fall production as the Broadway comedy classic You Can't Take It With You.  Written by George S. Kaufman and Moss Hart, the play made its Broadway debut in 1936 and won the 1937 Pulitzer Prize for Drama for is eccentric gang of characters and their hilarious antics.  The play hasn't been performed on an American stage since 1983, and a revival of the show is taking place both on Broadway and in the Aigburth Auditorium this fall.
You Can't Take It With You follows the misadventures of the Vanderhorf family, a clan that includes an anomalous firework craftsman, a candymaker, and a snake keeper. The youngest Vanderhorf grandchild, Alice Sycamore, seems to be the only normal family member, holding a simple office job in the family's native New York City.  When Alice falls in love with Tony Kirby, an executive's son at her office, two worlds collide as the quirky Vanderhorf family and the puritanical Kirby family meet for the first time.
Whether you're looking to wow the crowd with a lead role or test your acting skills with a smaller one, Towson's fall production has plenty of vibrant and accessible characters to portray.
Come out September 23rd and 24th to the auditorium to audition for a place on cast.