A Tribute to Louis Lowenthal: 5/15/98 – 10/31/12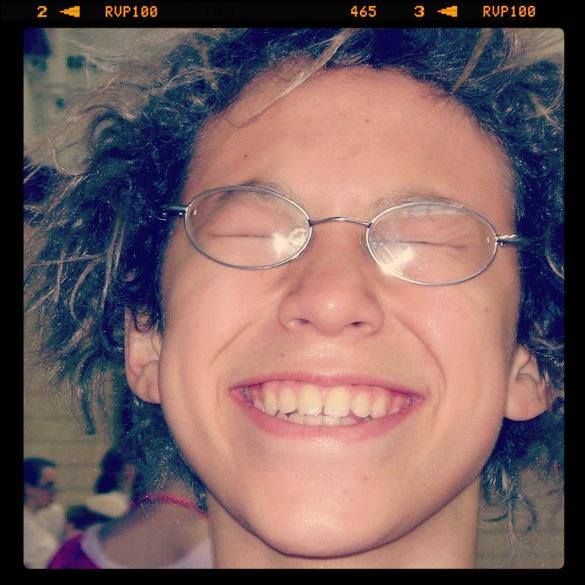 Emma Jablow
May 29, 2014|453 Views
There are so many achievements that Louis Lowenthal is remembered for – his outstanding swimming career, his award-winning essays, and his academic success. Above all, Louis will always be remembered as a devoted, compassionate person.  The motto "Live Life Like Louis," which was created by two of Louis's swim team friends and branded onto blue rubber bracelets distributed at his memorial service on November 6, 2102 demonstrates Louis's passion and love for life.
Louis's swimming career began in the Stoneleigh neighborhood pool, where he discovered a passion for the sport at a young age. When he was only seven-years-old, Louis set the record in the seven/eight age group's 25 yard breaststroke. He continued swimming for the Stoneleigh Sharks and set records in five more events. While on the Sharks, Louis was an admired role model for his teammates, especially the younger swimmers. Louis often arrived to the pool with his hair already wet (and looking pretty wild) from early morning practice at the North Baltimore Aquatic Club (NBAC).  Despite his early morning workout, Louis was just as energized as everyone else at practice.  At the end of the summer of 2013, several months after his death, the Stoneleigh Sharks honored Louis with a practice dedicated to his memory, with the help of his younger sister, Lillian. The practice, which featured games and other non-traditional activities, demonstrated that although Louis was a dedicated athlete, he always found a way to make swimming fun.
At a 2012 State Championship meet, Louis won third place in the thirteen/fourteen boys' 200 yard breaststroke, eighth place in the thirteen/fourteen boys' 100 yard breaststroke, and thirteenth place in the boys' thirteen/fourteen 400 yard individual medley.
In eighth grade, Louis expressed his love for swimming in his memoir for a Baltimore County middle school writing competition. The essay, "Strokes to Span a Lifetime," won first place. In an interview with the Baltimore Sun, Louis commented, "It was kind of fulfilling. It sums up everything I've done, and not just for the assignment."
Louis accomplishments extend beyond swimming. In eighth grade, he was bussed from Dumbarton Middle School to Towson in order to take a higher-level math class. In middle school, Louis also received special permission from the administration to take an online science course.  In ninth grade, Louis was one of the few freshmen enrolled in pre-calculus. In pre-calculus, Louis was frequently on Ms. Santavenere's "top five" board – a list consisting of the top grades for every test.
Through the idea "Live Life Like Louis," we remember to live life with as much care and compassion as Louis did. While he may not be with us anymore, Louis's optimistic and inspiring outlook on life continue to have a profound effect on the people who he was close to.
Louis's friends, classmates, and teachers remember Louis:
"Louis Lowenthal was a very close friend of mine, and I greatly appreciated his presence whenever I was around him. Louis had an enthusiasm and passion for life that infected those who knew him. Although he was extremely intelligent and talented, he neither held it over others nor tried to show off. Despite the great amount of success that Louis enjoyed in his life, he still treated the people whom he knew as equals, and it was through this great skill, knowledge, and belief in others that he inspired those who knew him to strive for greater things. Beyond all of this, Louis had a great sense of humor. He would often tell me outlandish stories, such as his explanation that he came in halfway through the school day one day because he had been sky diving in Pennsylvania with his family. In my gut, I knew that Louis's story could not be true, but the way he delivered it made me doubt my rational self until he finally admitted that he had made it up. With the combination of all of his wonderful traits, Louis made a great difference in the lives of many, and would have gone on to do great things had his life not been ended prematurely. The greatest honor we can give to Louis's memory is to be the best versions of ourselves that we can be. We will not forget Louis Lowenthal."     –  Vaughn Parts
"I… did the [polar bear]plunge with him, which was a cause that he was really passionate about. The time that I spent with him was really unique because he had such a unique personality. I remember him as a very exuberant, energetic, and lively boy who was really creative and very quirky. He was so much fun to be around because he brought this light everywhere he went that was like no other. He was always laughing and smiling, telling us interesting stories. He was known as the class genius without even trying… He truly was an incredible person." – Ariel Barbosa
"Louis had been in almost all of my classes ever since we met in first grade. We had always been friendly rivals, always trying to one up each other whether it was grades or music, as we both played viola. But it was the best kind of rivalry! He was the kind of person that made me want to strive to always be my best self. He was an incredible motivation to me and to everyone. Everyone always wanted to be like Louis; he was kind, helpful, smart, funny, talented, dedicated, motivated, inspirational, and basically any other good quality you could think of! He didn't have a bad bone in his body. Louis was the kind of person who could make anyone smile no matter what was going on in their life at the time. He was always bubbly and excited, which made it impossible to be around him and not laugh! He was always there to cheer me up and keep my focus on what was ahead. I miss him more than words can say, and any day I'm feeling down I try to remember his smiling face and it cheers me up! I will forever strive to live my life like Louis! " – Julie Burkett
"I taught Louis in Pre-Calculus when he was in 9th grade.  He was the youngest person in the class, but that did not stop him from participating often and working well with all of the older students in the class.  He also was one of my brightest students and he always came to class with a smile on his face.  You could tell that Louis loved learning, and that positive attitude continued to shine throughout class every day.  I only taught Louis for two months, but he was an amazing student that I will never forget."  – Ms. Santavenere
"I had the pleasure to teach Louis in GT Biology class first period last year.  The brief time period I got to know Louis was one I will always treasure.  Being a newer GT Biology teacher, Louis and I would often reflect during homeroom about the day's lab or activity and he would help me "fix it up" so it worked better later on in my classes.  Louis is one of those students, which even though I was able to teach him for only a brief time, he will always remain in my heart and in my teaching.  I just wish I could have said 'thank you'".  – Ms. Dugovich
"I only knew Louis for a short period of time, but I can honestly say that he was one of the brightest, happiest, creative, hard-working kids I've ever taught.  Because he was such a fine writer, I photocopied several of his essays to use as models with my students.  Louis's words will live on for many years to come." – Ms. Zava
Check out this post from Louis's memorial Facebook Page so you too can Live Life Like Louis:
Reminder: Live Life Like Louis Service Day (This Saturday)
Get in the Action in a day of service with Action for Healthy Kids and in honor of Louis Lowenthal. Join us and others in seeing how money raised in honor of Louis is going to good… use in a local school to help kids be healthier and more active. Bring your gardening gloves and your painting smocks, as we build planters, plant beautiful flowers and trees, paint play spaces and build an outdoor classroom area.
Date: Saturday, May 31st
Time: 9:00 am-1:00 pm (any time you can give is appreciated) Where: Highlandtown Elementary/Middle Link for adult sign up:
http://volunteer.actionforhealthykids.org/HOC__Volunteer_Opportunity_Details_Page?id=a0CE000000C6OlmMAF
If you are under 18, please email [email protected] to sign up.