The Annual Physics Pumpkin Smash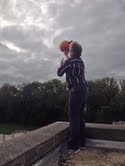 Maura Pannebecker
October 17, 2013
If you glanced out of a third floor window on Monday of this week, you would've seen a flash of orange. Nope, it wasn't an Oriole bird flying around the school – it was a pumpkin.
Mr. Bradley's physics class partook in a yearly tradition: the pumpkin smash. Bradley took a pumpkin to the roof of the fifth floor and launched it down to the parking lot below. The students then had to calculate its flight time, the height from which it was hurled, and its velocity.  Fourth period physics student Walter Young watched in awe as the pumpkin cascaded down from the roof above. "I loved watching it; it was an interesting experience," he recalls. Things almost took a turn for the worst when the pumpkin narrowly missed the hood of a Silverado by only a few feet. "I thought it was funny," Young laughed. "I'm glad it didn't actually hit the truck."
The splattered pumpkin was proof on the pavement of what some may call the best day in physics. In the end, Young and the rest of his class enjoyed the experiment and thought it lived up to its hype. "I now understand why I've heard so much about it from seniors," explains Young.  Students for years to come are sure to enjoy the annual pumpkin smash – as long as it doesn't involve a pumpkin accidently smashing into a car!