A Goodbye To Fall Cheerleading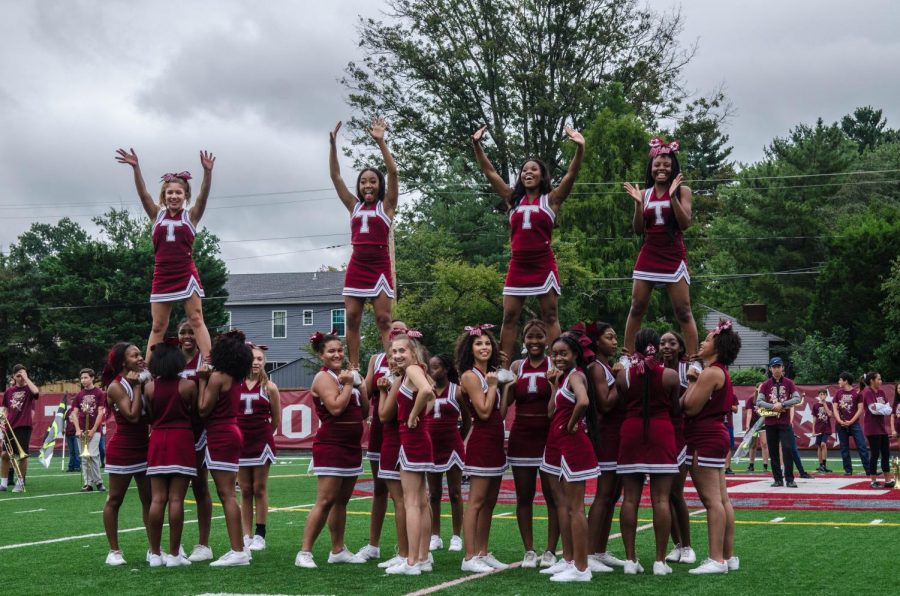 Tyleah McNair, Staff Writer
November 28, 2018
Sadly, the fall cheerleading season has come to an end. The cheerleaders began the season over the summer with Coach Jacobs and Coach Alexander. There were so many new faces at the 2018 fall cheerleading try-outs. After choosing 24 people, the season began!  
The cheerleading squad has improved a lot from previous seasons. In past seasons, the team consisted of about 7-10 girls led by one head coach. After the new coaches Mrs. Alexander and Mrs. Jacobs came, the team went for a positive turn. More people, more stunts, and much more fun! 
"Overall, I think it went well. We were able to achieve full stunts and did well at the competition.  There were struggles but we looked past them," says Kayla Tingley, who has now been a Towson cheerleader for three seasons. 
This season, the THS squad cheered for a total of 9 games and even traveled to Dulaney to cheer! In the Baltimore County Cheerleading Competition, the THS cheerleaders placed higher than they did in the previous winter season.  
The last football game of the season, the senior game, was a bittersweet moment for everyone. The cheerleaders cheered on the senior cheerleaders, football players, and band members who are now moving on to college. "It was a good final season. I loved cheering with them," says Jessica Vaughan, a senior who has been cheering since her freshmen year. 
"My senior year of cheer was much different. This year meant the most because it was [surreal] that this would be my last season with my amazing team," says Autymn Epps, another cheerleader who has been cheering since her freshmen year. 
"My freshmen year, the cheerleading team didn't fully represent the talent of our school, but the past two years the team has been improving and getting way better," Says Katie Kilcoyne, a Towson high student. 
I think it's safe to say that the cheerleaders had an outstanding season and have improved a lot. The Towson High School Cheerleaders have so much more in store! 
The Winter season will begin soon, and the cheerleaders will now be cheering for the Towson home basketball games.