A Shining Day for Towson Athletics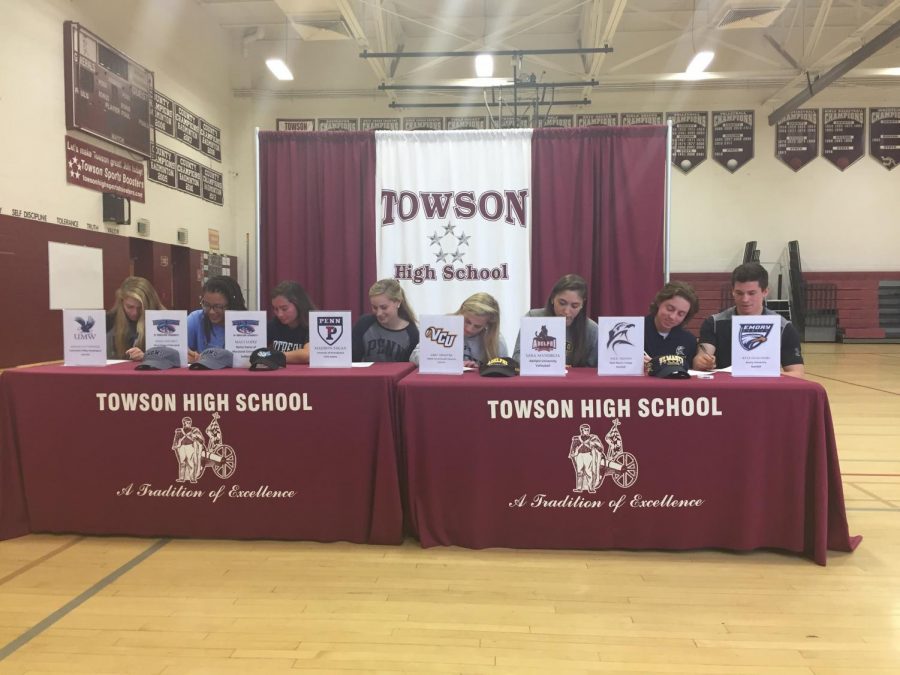 Drew Evans, Staff Writer
November 14, 2017
On November 9th, Towson High School honored their athletes for their hard work and commitment to a college. Eight seniors had committed to the schools of their choice to play the sports they love.  
The Towson Baseball team proudly saw two men shine. Seniors Nick Testoni and Kyle Sulkowski were both at the table and put the pen to paper signing with St. Mary's College of Maryland (Testoni) and Emory University (Sulkowski). 
"I was very honored to have my friends and family with me. I was excited because this showed that I would continue my pitching career at a college that I love," said Nick Testoni. 
Notre Dame of Maryland University received two all-star athletes. Seniors Maci Lopez and Daija Fitchett committed for basketball (Fitchett) and softball (Lopez).  
Senior Saraid Satterfield was ecstatic to have finally committed to the University of Mary Washington for lacrosse. Satterfield exclaimed, "I am really happy that I am going to a respected D3 lacrosse school to compete and have fun." A teammate of Satterfield, Senior Abby Osmeyer, was bubbling with exuberance because she got to sign her letter of intent to play division one lacrosse at Virginia Commonwealth University.  
The big hitter from the volleyball team, Senior Sara Mendreja, was honored to be up at the table to sign with Adelphi University up in New York to continue her career at the D2 level. 
The greatest excitement of the day was to see a new student to THS, Senior Maddy Fagan, committed to the ivy league school University of Pennsylvania for field hockey.  
It was a moving afternoon to see all of the students move on to the next level in their athletic career.