Fun, Fast Times at Faculty Basketball High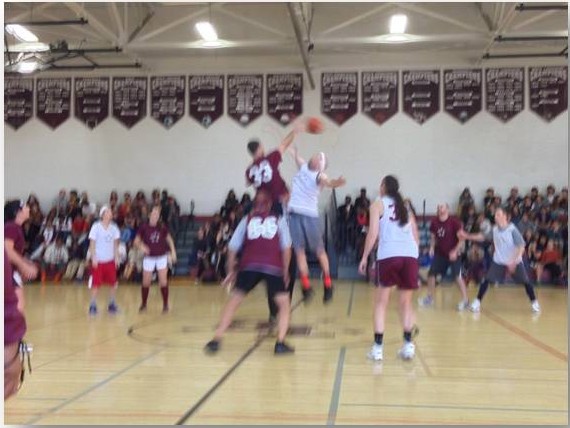 The gloomy weather of Friday the 13th of November, 2015 didn't dampen the electric atmosphere in the Towson High School gymnasium as the THS student body roared with enthusiasm. The crowd watched as team Maroon, coached by Ms. West, and team White, coached by Mr. Dase, faced off in the always eventful faculty basketball game.
Seniors, juniors, sophomores, and freshmen gathered to cheer on their favorite THS teachers, administrators, and staff as the two teams duked it out on the court in a well-fought, exciting competition for the annual and honorable THS basketball Gold Cup.
Squeak! Boom! Swish! The crowd went nuts throughout the game as Mr. Geckle dunked, "Beastham" broke ankles, and Mr. Cohen splashed the first beautiful bucket of his faculty basketball career. Always intense, but never too rowdy, students of all sorts were constantly on their feet, keeping the gymnasium buzzing as the players provided entertainment.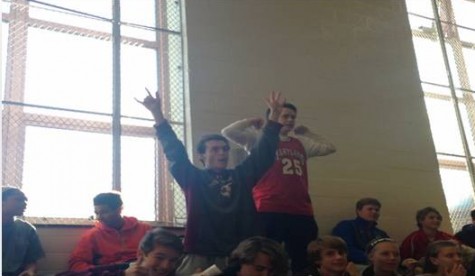 At halftime, the 2015 inductees of the Towson High School Athletic Hall of Fame were honored with a ring ceremony, filling the atmosphere with a special sense of school pride. Junior Tanner Meeks explained, "It was something special seeing so many inductees from so many different generations. It really made me realize that this school's tradition of excellence is an ongoing flame that won't die out as long as we keep it going."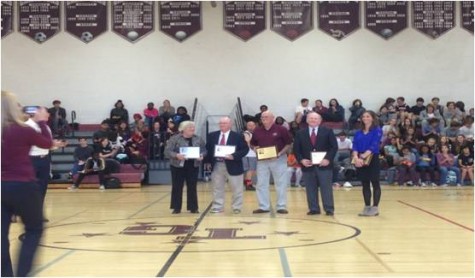 Team Maroon dominated, easily taking the 52-33 win thanks, to Mr. Busselman and Mr. Geckle's masterful play as well as Mr. Jochmans and Mr. Miller's stellar defense. The triumph over Team White did little to disrupt the humbleness of Maroon's players. "It's all in good fun. I'm never worried about winning or losing these games; I just hope I don't look like a goober running around out there," professed Mr. Miller.
Until next year, Ms. West and the Maroon team will have bragging rights as the 2015 THS Basketball Gold Cup winners and students will have fond memories of this unforgettable, mid-November Friday afternoon