Photography at a Glance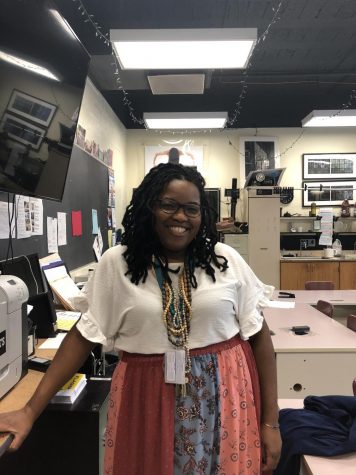 Ms. Marsh is the new photography teacher at Towson High, and her experience so far has been great. All her life she knew she wanted to pursue photography and eventually teach others the creativity that lies behind it. Ms. Marsh went to college at Memphis college of art in Tennessee, University of New Orleans, and the University of Maryland. 
One of the major things that motivated Mrs. Marsh is pursuing the things she loves; teaching and photography. She energizes these passions to work and be in the classroom environment that will allow her to grow with her students.  
She said "One of the things that I remained consistent in my life is that I have always been energized by a classroom environment and I love the interactions because I am able to learn along the way when I teach."   
Being new to the high school teaching world, she hopes to incorporate some new things the students can benefit from outside of the classroom. One of her goals for this year is to expand to areas outside of photography. 
She stated "A few things that I would want to do is infuse student choice with some things so that I am able to get feedback and be more responsive to their interest. The other day was mental awareness day, so I had them fill out a questionnaire so that I have a better understanding of them as a student outside of the classroom. In order to get a better understanding of what things stress them out."  
Every day, Ms. Marsh tries to achieve more than just teaching her students the fundamentals of photography, but also the importance that it can serve when examining pieces of artwork.  
When asked her opinion on Towson she stated "I think that Towson has some really great resources. I mean I think that we are able to use different apps on computers such as Photoshop. I think that there are amazing resources here that are not just facility based but also computer based. There's some amazing stuff like the darkroom that are just great resources. But even with a lot of the resources, the students have been vocal with what they would like me to use in order to challenge them."  
She also incorporated her layout of what a daily class would cover. Considering her setting of teaching in a high school, she took into consideration different learning styles and classroom flow.  
When asked why this felt important to her, she answered "I guess the best way to say it is that the classroom is about reiteration, so I try to incorporate all the different types of learners that are in the classroom and trying to get people to feel successful." Mrs. Marsh shared her values and passion for the art form and expressed how much of a pleasure it is being able to teach young developing minds in an environment like Towson.   
Mrs. Marsh shared this statement when we asked her what her focus of the year would be. 
"I want you to be just conscious creators and thinkers and I also want you to be better people. In the classroom, people will have conversations in class that are sometimes challenging because sometimes in photography photographs can act as a ray of true colors."