Commemorating 2017
Hang on for a minute...we're trying to find some more stories you might like.
Almost every yea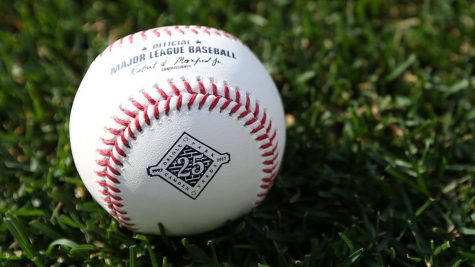 r, professional baseball teams reach a milestone in their franchise's time. How long a stadium has been built, or how long the team has existed. Three teams will celebrate big milestones in 2017: the Orioles, Mariners, and Braves will all use special equipment, recognizing the big year in their franchise history.
The Baltimore Orioles are celebrating the 25th year since Oriole Park at Camden Yards has been built. They will be sporting a big number 25 on the sleeves of their uniforms and the commemorative logo will be on all of the game balls used during the contests played at OPACY in 2017. I talked to a fan at a game and he said, "I love how they incorporated the brick wall in the background of the logo."
The next team celebrating a big milestone this year is the Seattle Mariners. The M's have  been a part of Major League Baseball for  40 years. They have had some real greats come through the organization from Ken Griffey Jr., to Edgar Martinez. The commemorative logo includes the Seattle skyline, forming the number 40 around the Space Needle. Like the Orioles, the logo will be included in their uniforms and game balls throughout this season.
Last but not least, the Atlanta Braves are commemorating the construction of their new home in downtown Atlanta, Sun Trust Park. The Braves are now "chopping" in style, because this new stadium is a real good one. The logo will incorporate an outline of the newly constructed stomping ground, with the Braves' logo in the foreground with the year 2017 around it. This logo is sure to bring some joy to baseball fans everywhere.