Taylor Swifts' 2023 Eras Tour
Taylor Swift announced her 2023 Eras Tour on November 1st and this has been a big conversation topic at the moment on social media. Taylor Swift started out as a country singer in her early years but when she was gaining more popularity and fame, she went into pop. Swift fans are thrilled over the announcement of the concert mainly because Taylor hasn't gone on tour since 2018 and has released rerecorded albums and new albums since then. She now has Folklore, Evermore, Fearless (Taylor's Version), Red (Taylor's Version), and Midnights added to her list of albums. Taylor Swift recently came out with a tenth album on October 21st, called "Midnights" consisting of 13 songs. Swift also came out with "Midnights (3am Edition)" later that day with an additional 7 songs. Opening acts for Taylor's tour would be Phoebe Bridgers, Paramore, HAIM, Beabadoobee, Gracie Abrams, Girl in Red, GAYLE, OWENN, and MUNA.
The Ticketmaster Controversy
Ticketmaster utilized their "verified fan" system for fans interested in buying tickets. Basically, fans had to register a few weeks in advance, and the day before tickets went on sale, codes were distributed to some of those who signed up. This system was intended to prevent ticket scalpers and bots from taking all the tickets from real fans. Ultimately, buying tickets was a disaster. There were countless reported glitches throughout the whole process of being in the waiting room, queue, and then the actual buying of the tickets. Some waited in the queues for 5+ hours only to find a completely sold-out stadium. Many fans were outraged with their buying experiences and took to social media, calling out Ticketmaster for the monopoly they have on the ticket-buying market. Ticketmaster later made a statement claiming there "has been a historically unprecedented demand with millions showing up to buy tickets." Yet they distributed enough presale codes that not everyone with a code would even be guaranteed a chance at buying tickets. To add on top of this, the general sale was canceled. Fans that did not receive a presale code or have a Capital One card had no way to buy tickets, except for buying them from resellers who were raising the prices multiple times greater than their face value. For example, nosebleed seats in Philadelphia (the worst seats in the house!!) are being sold for over $600 apiece.
For those who got tickets to Taylor's concert, it's definitely going to be one of her best yet. You're guaranteed to have a good time. For those who didn't, don't be too upset; you're one of many who weren't able to get them. There will be more opportunities to see Taylor Swift in concert in the future.
About the Contributor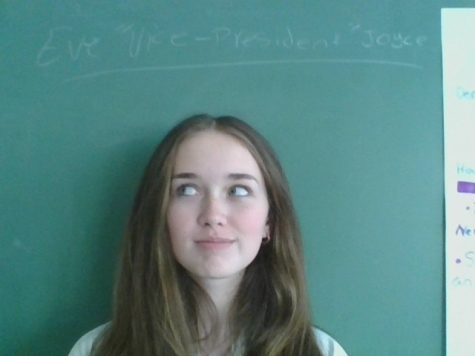 Eve Joyce, Vice President
Avid computer science student and journalist.