Celtics, Warriors defend home court on day 1 of the 2022-23 NBA season
The NBA season kicked off on Tuesday October 18th with the Philadelphia 76ers heading to TD Garden against the Boston Celtics and the Los Angeles Lakers having a California battle against the defending champs Golden State Warriors.
76ers vs. Celtics
Final: 117-126 Celtics Win
These two teams have had a long-standing rivalry since the 1960s. The Celtics come off a Finals loss to the Warriors while the Sixers come off a 2nd round loss to the Miami Heat. Both teams are contending for a championship this year. Before the game, the Celtics paid tribute to NBA legend and civil rights leader Bill Russell who passed away this summer. And the Celtics honored him with a great win. The first half was pretty even as the Celtics star duo of Jayson Tatum and Jaylen Brown lit up the stat sheets and 76ers star guard James Harden kept the Sixers in it. The second half was all Boston as Tatum and Brown continued to dominate the game. The defense put the Sixers in lockdown as Sixers star center Joel Embiid struggled all game to get in a rhythm. Guard Tyrese Maxey and Forward Tobias Harris struggled mightily for the Sixers too. Tatum and Brown had 35 points each and Guard Malcolm Brogdon chimed in 16 points off the bench for Boston. Harden had 35 points and Embiid had 26 points for the Sixers. Boston heads down south to face Jimmy Butler and the Miami Heat in an eastern conference finals rematch next while Philly heads home to Wells Fargo Center to welcome Giannis Antetokounmpo and the Milwaukee Bucks next.
Lakers vs. Warriors
Final: 109-123 Warriors Win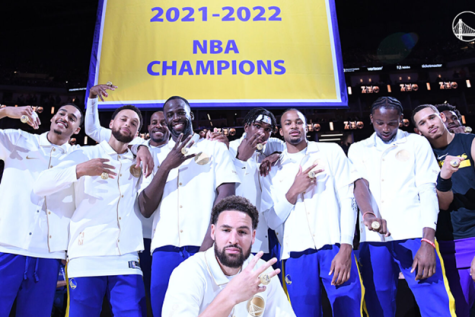 The Golden State Warriors come off a championship win against the Boston Celtics while the Los Angeles Lakers are coming back from arguably the most disappointing season in team history. The Lakers added star guard Russell Westbrook last season and people had high hopes for this team. Then everything that could go wrong went wrong. The team was ravaged by injuries all season long to stars such as Forward LeBron James and Center Anthony Davis. Westbrook proved to be a horrid fit, so this season has to be a bounce back. Golden State also dealt with controversy over the offseason as Forward Draymond Green punched teammate Jordan Poole in the face. That had to have reduced the chemistry in the team and created tension. None of that tension was apparent as Golden State had a convincing win against the Lakers. No player really shot that well, but star guard Stephen Curry headlined the box score for Golden State as he scored 33 points. For the Lakers, LeBron James scored 31 but it was not enough. The Warriors celebrate their ring ceremony with a win.