FC BARCELONA TIE 3-3 WITH INTER MILAN IN A MASSIVE UPSET AT HOME, UCL SURVIVAL SEEMINGLY IMPOSSIBLE
FC Barcelona's UCL's survival chances are now out of their hands following the 3-3 draw against Inter Milan this Wednesday in a game that is being considered a defeat on behalf of the Catalan side. Following a 0-1 defeat against Inter at the San Siro earlier last week, Barcelona has now lost twice in a row to an Italian team for the first time in history. The Spanish team must hope to see things out, needing to secure a tough victory against Bayern Munich, then another victory against Viktoria Plzen. In order for Barcelona to advance to the knockout stages, Inter Milan must lose their game to Bayern and tie to Viktoria.
Almost all of Barcelona's starting defenders were left unfit to play following injuries during the international break last month; former Barcelona player and current manager Xavier Hernandez was forced to replace them with backup defenders for the time being. These replacement defenders have little to no experience and chemistry with each other and as a result would make many costly mistakes during the match.
A goal from Barcelona's Ousmane Dembele in the 40th minute saw Barca take an early lead right before the break. However, in the 50th minute, terrible positioning from Gerard Pique would give Inter's Nicolo Barella a clear opening to level the score line. Just 13 minutes later, another defensive mistake on Barcelona's behalf allowed Lautaro Martinez to open up and score against a helpless Ter Stegen to give Inter the lead and turn the game around. Barcelona would continue to trail behind. Despite a sudden burst of energy where the hosts would create more than double the number of chances than the visitors did, Ter Stegen would be called on to make some wonderous saves after being left 1-on-1 time and time again due to defensive errors.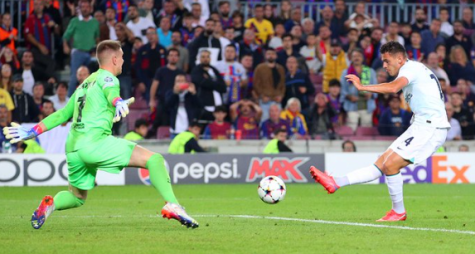 Ter Stegen being called on once again to keep Barcelona in the game
The pressure would finally pay off when, in the 82nd minute, a shot from former Bayern player Robert Lewandowski deflected off an Inter defender into the back of the net to equalize the score to 2-2. Their hope was short-lived when just 6 minutes later, Inter would re-take the lead following a beautiful pass from Lautaro Martinez to an unmarked Robin Gosens, who had an easy finish as the defender assigned to him was nowhere to be found.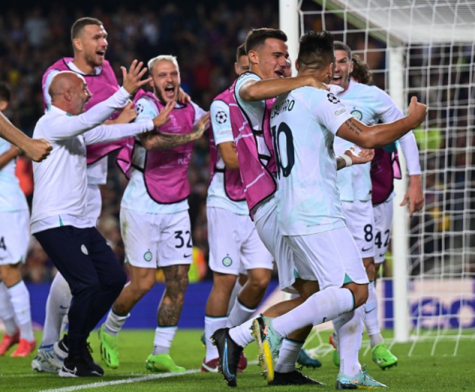 Early Inter celebrations following Robin Gosens's late goal
As the clock hit the full 90 minutes, the referee would signal an additional 6 minutes, in which Robert Lewandowski would score his second and the team's third in 92 minutes, bringing it to a level playing field once again. With 4 minutes left to play, Barcelona would fight harder than ever, but that would prove to be not enough, with the game ending with a final score of 3-3.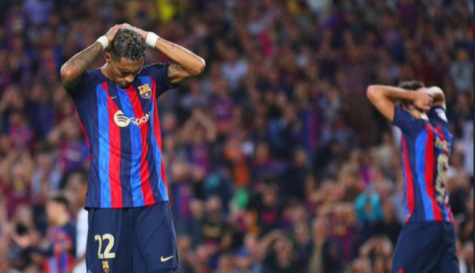 Disappointment amongst the Barcelona players
"I'm sad and angry. I apologize because it's everyone's mistake, we had put it into our heads not to fail, but we did. We tell Barça fans that we will work to turn the table around and win titles."
– Xavi Hernandez, post-match interview
The Catalan side is now on the brink of being knocked out of the UCL group stages into the Europa League for the second season in a row. Barcelona however, remains undefeated in the LaLiga and leads the table just above rivals Real Madrid.