The Best Mexican Food in Towson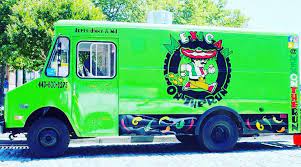 Mexican on the Run serves the best Mexican cuisine in Towson, hands down. You think Chipotle serves the best Mexican food? Qdoba? Neither stand a chance. Based in Idlewylde, Towson, this food truck serves delicious authentic Mexican food with spins on signature, local favorites. Established in 2016 by two brothers from Baltimore and Los Angeles and their mother from San Luis Potosi, Mexico, each bring their styles of Mexican food to this one unique truck. Lines can be 30 people deep. Each person patiently waits for the magical cuisine served. 
Mexican on the Run know what they're doing. Their extensive knowledge of Mexican cuisine produces some amazing dishes. Their best-selling meat —Birria— is a delicious Mexican beef that is braised for hours and assembled into Burritos, Quesadillas, and tacos served traditional style, Multitas (Taco Sandwich) or L.A style called "Queso tacos" – tacos served smashed with melted cheese. However, they're no strangers to the Baltimore way. They tie in some of the most beloved local ingredients to produce delicious signatures like The BMORE Quesadilla/Burrito with crab meat, shrimp and old bay sour cream, or the Ceviche stew with Baltimore seafood. Alongside, you might enjoy authentic and heavenly Churros and Consumé dip—made with Birria broth, chickpeas, fresh cilantro, and diced onions. For all you vegetarians out there, you're not missing out on the authentic experience because they offer veggie options in all dishes with "Nopales y Hongos" – a Mexican cactus and mushrooms combination. 
Food trucks can be a great community-friendly business that entice locals and supply great food. Mexican on the Run is no different and avoids the negative connotations of food trucks being dirty or not efficient; they are fast and handle the long lines with consistency. They also reward good deeds to residents, occasionally offering free meals to those that clean up around the community. Unlike many fast-food Mexican establishments, they source their food locally from White Marsh and Churchville farms to produce their magical menu. So, don't be scared of the long lines or it being a food truck, Mexican on the Run will have you question if you should ever go to Chipotle again.