Senioritis Explained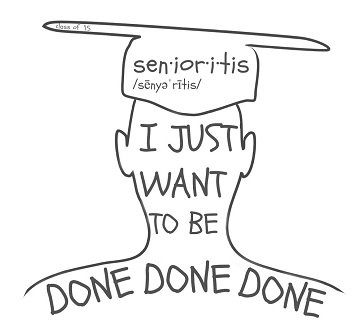 I really didn't feel like writing this article, so I decided to write mine about the very serious, non-diagnosed, senioritis. This awful disorder consumes nearly all seniors who just want the school year to be over, before the reality of the real-world hits. 
As the end of the 2nd quarter looms, the Senioritis becomes increasingly worse. More seniors care less and less about their grades.  
After these students are accepted to the colleges that they applied to, they become increasingly less motivated to give the full effort towards school, causing grades to slip. Jack Corbett, just another sacrifice to the disease, talked about how he'd "always rather be sleeping" and "Catches up on sleep by sleeping in class." 
Javon Brown, another senior here at Towson High said, "I went from 8 classes to 3 classes and barely feel like coming when I get to sleep in and leave early every day." 
Another victim of senioritis is Carl Paredes, who when asked if he would be studying for his latest test he responded, "No way I'm studying for that freaking test." While Carl is being a little over dramatic, he is struggling with a very serious level of senioritis. 
Senioritis doesn't mean that kids are just losing focus on everything, there are exciting opportunities to play in their senior game, and for a lot of kids, playing their favorite sport for the last time and getting to celebrate that with their parents and whoever was with them along the way. 
The senioritis really kicks in when you get into college, and it gets continuously harder to keep your grades when studying and getting work done just doesn't seem as important. 
This disease has taken almost all the seniors at this point. The countdown to graduation is well underway, and the seniors are ready to make the jump to college or whatever the next step in life is.