Past General with Present Success
Hang on for a minute...we're trying to find some more stories you might like.
Michael Fast, a Towson High Graduate of the class of 2004, used the resources he gained from Towson's tradition of excellence to fuel his professional career. Fast quickly rose to become a Fox Sports statistician, a writer for the Baltimore Ravens, as well as a current paraeducator here at his alma mater.  Fast was also a Young Life leader in the Towson area.  
I was able to sit down and interview Fast to gain a better knowledge of his career and various roles he plays in the Baltimore area, as well as how he became a journalist and statistician. Below is a transcript of the interview:  
Miller: Where and when did you get your start in Journalism? 
Fast:  I started in college, studying at Towson University, and I knew for a while I wanted to do something with sports. But I didn't know particularly in what.  I started as a public-address announcer at Towson announcing soccer, field hockey, and all kinds of different sports. So that exposed me to a lot of things I didn't know. At that time, it was really just watching football and baseball. Now I have a great appreciation for all sports and I am able to learn them much quicker than before.  
Miller: Okay, so have sports been an interest of yours all your life? 
Fast: Pretty much. I think since I was in middle school, that University of Maryland basketball team was the one that really sparked it for me. They were playing at the time UNC and Duke and were about to win a National Championship. I was just so excited and wanted to be a part of that. We [Baltimore Area Residents] had just gotten the Ravens, and they weren't as good as they are now. The Orioles had been good but they were on kind of on a decline so it was a time where I was looking for another team to root for.  
Writer's note: I'd like to clarify that when Fast was probably in Middle School, the Maryland Basketball team began a run of consecutive historic seasons. Maryland legends like Juan Dixon was just getting his start to college hoops and the spurt of greatness was starting at College Park and spreading throughout the state. The professional teams were in a bit of a slump at the time. The scramble to get behind a team was on. It's not that Baltimore gave up on the Ravens and Orioles, it's because everyone likes a winner.  
Miller: I was able to listen in to you on the radio a couple of days ago, and it was pretty cool to see someone from Towson High School be able to do that. What's it like being heard by thousands of people? 
Fast: Well to be honest with you I didn't really think of it that way. I was doing what you are taught to do and just have a conversation with that other person in the studio. I've known the co-host for a little while so it was kind of easy for me to do that. The preparation I did in advance helped calm me.  So in other words, if I hadn't done that preparation and just kind of rolled in there and said to myself, "Hey, I'll be fine,"…[or] "Hey all these people are listening"… I might have gotten nervous, so the preparation was the biggest thing.   
Miller: Right. Another question I have is what is the most exciting job you've had throughout your career? 
Fast: I would probably say being a statistician for Fox Sports. So I started that last season, September 2016, and just finished my second year. I have been able to go on the field and get access and what I do, I see in the production truck go on the screen to millions of people. I was able to be a part of that team and it was really cool. This past New Year's Eve they paid for me to go to Philly and work the Eagles – Cowboys game and it's been a dream for me to have someone pay for my hotel and everything.  
Miller: Yeah, that seems like a great experience. Can you share what is different about working with children, like when you were with Young Life, compared to working with adults? 
Fast: There are a lot of similarities, actually, but I would say a difference would be that adults are less forgiving, not to sound doom and gloom, but they're living a different life than teenagers. Which isn't necessarily a bad thing; they have to get things done and in Journalism you have deadlines. If I was in Young Life, and I wanted to do a project than I would check with a kid and if they couldn't do it then we would re-schedule it. But as an adult, you have to put it in your mind that you're going to succeed and you're going to get it done and if you don't, you have contingencies. It's different in terms of the standards, but there are a lot of similarities.  
Miller: What's it like working at the same place you graduated high school from?  
Fast: It's interesting for sure. I've enjoyed it, and a lot has changed. We didn't have trailers when I graduated, and there are still a fair amount of teachers still here. However, it's a completely different administration, new athletic director, and new teachers. But, I think the spirit of Towson High where the unspoken rule that people challenge each other no matter what they want to do is still around today. There is a standard of excellence that I just think is second to none. I am proud more than anything to be back here and have the privilege to work here.  
Miller: It seems like an amazing opportunity. If you had to choose, would you be a full time teacher or full time journalist?  
Fast:  Being a journalist would be good because it would tap into my natural interests and my education. However, being a journalist means the schedule is very challenging. You can work early or late, sometimes both in the same day. Family is something of vital importance to me. You can be a journalist and enjoy your family but it is a tough challenge. In teaching, it is more of a traditional schedule: you have your summers off, breaks, and weekends. But I would probably lean towards journalism just because of my interests.

About the Writer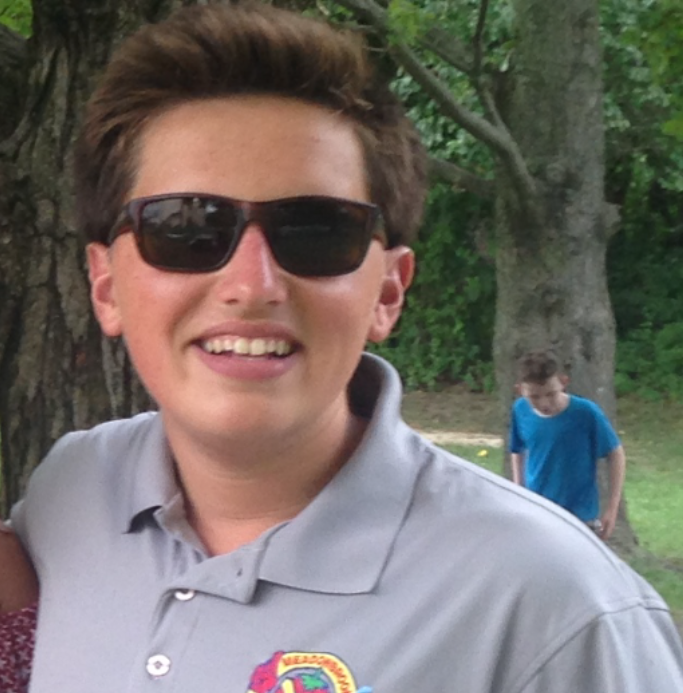 Ryan Miller, Staff Writer
Ryan Miller is a senior, and this is his second year on the staff.