Spirit Week Highlights
Hang on for a minute...we're trying to find some more stories you might like.
Spirit week started out with a bang on America Monday. The American flag could be seen sported around on various clothing articles among the spirited student body. This is not the first time America Monday has appeared on the spirit week docket. Last year Towson students rocked red, white, and blue as well.
The amusing outfits continued on Tuesday with Meme Tuesday. Many students had mixed emotions about this original idea for spirit week. Some embraced the idea with open arms and looked phenomenal in their meme-tacular ensembles. Others dreaded the thought of seeing one more meme. When asked about the themes, sophomore Avery Garvin claimed she enjoyed all of the days, "except meme day."
Some of the most popular and entertaining ideas seen on meme day were dat boi, Kermit, cash me ousside girl, dancing hot dog, and confused math lady. All of the memes were inventive and splendidly executed. Kermit impersonators could be seen in green with a black hoody, hot dog wearers were frequently seen with comical hot dog costumes and headphones, and cash me ousside girls were caught with sweats, a black tank top and oversized hoop earrings.
The next SGA approved theme was jersey day. On Wednesday, the passionate student population dressed in either sports jerseys or Jersey Shore. Those who dressed up in Jersey Shore looked at the theme from a divergent perspective. Their attire could be summarized as classy but trashy. These clever students offered a fresh take on jersey day.
Thursday came and brought blue and pink day. Those who dressed in blue showed their support for Prostate Cancer Awareness and the students who dressed in pink showed their support for Breast Cancer Awareness. Many enthusiastic students could be seen with dazzling pink and radiant blue.
Spirit week came to a close with the final, classic theme: Towson Friday. Towson Friday, as usual, was a big hit and had successful participation throughout all grades. Students became united in a sea of maroon that could be witnessed at the pep rally during fourth period. Students rocked with the maroon and rolled with the white all day while exhibiting immense spirit.
Looking back, spirit week was moderately successful but required more participation to be exemplary. Sophomore Jennifer Tabet suggests spirit week themes should be "more publicized." As far as improvements go, sophomore Rachel Elkes suggested, "make dress up days easier so you don't have to buy anything new." Encouraging student participation could potentially make spirit week the best yet and boost overall school spirit.

About the Writer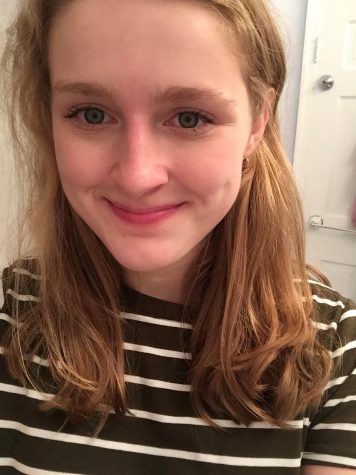 Helen Logan, Staff Writer
Helen is a sophomore, this is her second year on the staff.