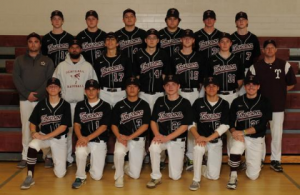 It's no secret that last year's Varsity Baseball Team had some struggles during the season. A mix of many new players on the roster combined with skilled, experienced competition from teams like Dulaney and Catonsville led to a below average season. The 3-15 record they had last year was not at all what they may have hoped for, but this year's team is already shaping up to be a powerhouse in the Baltimore County division.
Led by team captains Nick Wynn, Andrew Decker, and Jack Saunders, the 2017 squad is near the top of the division with 11 games into the season. They have beaten some of the top opponents in the county so far, and their few losses have come in very close games. At 5-6 this year, only one of the team's losses has been by more than two runs.
The most compelling signs of a strong team is to face adversity, tough losses, and even bad weather to bounce back and continue to win games. This year's team has all of those qualities and more. Returning varsity players remember the below average season they had last year, and new players can take the advice of the now-veteran players as they move on in their high school careers.
Senior captain Nick Wynn shared some thoughts on this season so far: " We've been very good in the field so far, but what we could use a little more of is hitting. It's a day to day thing, and that's what makes hitting, and baseball itself, challenging. But if we can keep it clean, things will go in our favor in future games. Right now what really matters is the playoffs, and we're treating the rest of our games in the regular season as preparation for that."
The team is looking to really bring everything together come playoff time, and it looks like they really have a solid chance to go pretty far in the postseason. It's a complete reversal from where they were at last year, so be sure to watch when the Varsity Generals take the field.