Orioles Off to a Steaming Start
Hang on for a minute...we're trying to find some more stories you might like.
To sum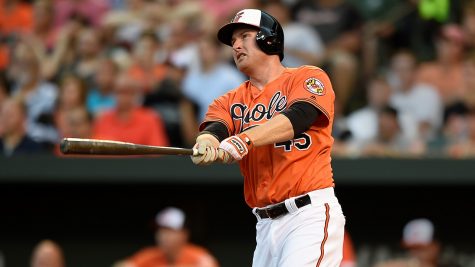 up some major points about the Orioles this year would be giving you the wrong impression about them. Their ace pitcher Chris Tillman finally made his first start this past Sunday against the White Sox where he pitched decently. Arguably their best player Zach Britton is on his second disabled list stint which will sideline him until the All-Star break. The superstar known as Manny Machado is batting .226. Mark Trumbo (who led the league in home-runs last year) has only three. All of this and this team as of May 10, 2017 has the best record in baseball.
They have been sensational to watch this year as they really have a different element to their game . In past years, the Orioles scored predominantly the home-runs. They still do this most of the time but now they are able to manufacture runs when they need to. With Joey Rickard healthy this year and the addition of Craig Gentry they are able to steal bases, bunt runners over, and just play more small ball.
The other thing that the Orioles have mainly relied on is their bullpen to carry them through games. Surprisingly, Orioles starting pitch has been pretty good this year. Dylan Bundy has been excellent posting a 5-1 record with a 2.17 earned run average (ERA). Wade Miley has made a huge turnaround from his last year struggles. He has struck out 38 batters in 31.2 innings and has a 2.27 ERA. This has been a huge help relieving the bullpen especially with Zach Britton being injured.
Another couple of key contributors to the Birds success is the emergence of Trey Mancini and the acquisition of Seth Smith. Mancini, who is a rookie, has been another big power bat in this fearsome lineup. Seth Smith has been the leadoff hitter the Orioles have desperately have needed in past years. The special thing about this team is that they own the best record in baseball and we haven't even seen the best baseball from players like Adam Jones, Chris Davis, Manny Machado, and Kevin Gausman. This team has a great chance of winning the AL East and maybe making a World Series appearance.